When you find yourself wondering what packed food is the best, how do you navigate the right choice? Find out how to properly read labels to ensure that you choose the healthiest product available on your next grocery trip.
---
As a Registered Dietitian one question I get asked all the time is, 'What do you eat?' Here are my top ten secrets to staying happy, healthy, energized and fit.
---
There's a big misconception that the seed-roasting process can be labor intensive, but in reality it's super easy. Here's a quick 10-minute method.
---
A creamy avocado-based dressing can turn any salad into a work of art, especially when you toss it with this combination of perfectly picked ingredients. Go ahead and create this masterpiece in your kitchen.
---
Could there possibly be even more benefits of juicing? Yes, indeed! Get out your juicer because here are 7 more benefits that go beyond weight loss and feeling energized.
---
"Both Reboots were positive as I was truly seeing results of healthy change almost immediately, from water weight loss, to increased energy, to a feeling of control."
---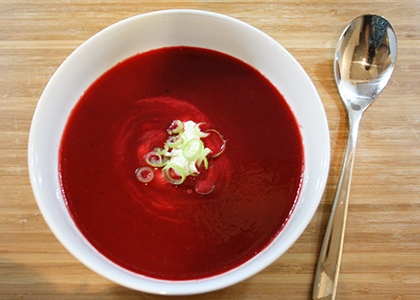 Beets might be a favorite in your juice recipe, but have you considered making them the main ingredient in your soup? Now you will because this soup is so rich, creamy and simple to make.
---
Here's what you need to know about these tacos. Lentil haters and meat eaters will love them. When you combine yummy flavor and a satisfying texture, it's a win for everyone. And that's exactly what this recipe does.
---
So many of us know that we should be drinking more water, but do we? Maybe if we have a better understanding of why we need to drink more water, we will! Here are 9 huge benefits of drinking more.
---
This was the best money I have spent and I lost more in the 15 days than the 6 months of what I'd call moderate juicing.
---
We're almost two weeks into the new year. If you feel like you're already slipping away from your resolutions, these tips from a nutritionist will help you reset your intentions.
---
Boost your health with this delicious, refreshing smoothie that contains important anti-inflammatory properties.
---