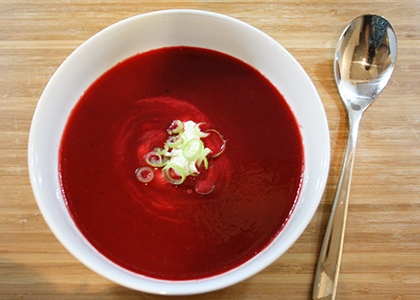 This beet soup is easy to make and full of nutrient goodness. You can either use potatoes or cauliflower or any other vegetable as a base to break down that very strong beet taste while still enjoying its delicate flavor. Beets are a highly nutritious vegetable that provide an array of health benefits! They are an excellent source of folate; only 1 medium beet provides 50% of your total folate requirements for the day. Beets can support and lower blood pressure, improve physical performance, are a nutrient powerhouse, fight inflammation, support healthy liver detoxification, reduce the risk of dementia and they can ease constipation. Here are 8 reasons why you should eat more beets!
Ingredients:
4 trimmed medium beets (600g)

2 tbsp coconut oil

2 leeks, trimmed, halved lenthways and thinly sliced

2 medium potatoes, (400g) potatoes, peel and chopped

3 garlic cloves, crushed

4 cups (1L) vegetable stock concentrate or other stock

sea salt and pepper, to taste
Directions:
Preheat oven to 350 F (180 C).
Individually wrap beets in foil and bake for 50-60 minutes, or until just tender when tested with a skewer.
Remove foil and peel and chop roasted beets. It may be helpful to wear gloves to avoid red hands.
Heat oil in saucepan over medium heat and sauté leeks, potatoes and garlic until leeks are soft. About 5 minutes. Add beets, vegetable stock and pepper. You can also add a pinch of cayenne if you wish.
Cover soup and bring to boil then simmer for 20 minutes.
Blend with a blender, or a stick blender until smooth. Garnish with salt and pepper and add some greek organic yogurt or coconut cream and chives.
Substitutions:
Leek – scallions, spring onion
Beets – sweet potato, pumpkin
Potato – cauliflower, sweet potato, carrots, winter squash
Coconut oil – olive oil
Prep time: 30 minutes
Cook time: 1 hour, 30 minutes
Total time: 2 hours
Servings: 6
Nutrition per serving:
Calories

120

Fat

4g

Saturated Fat

0g

Cholesterol

0mg

Sodium

160mg

Carbohydrates

18g

Fiber

4g

Sugars

7g

Protein

2g
Yields and nutritional information are estimated and will vary depending on produce size and equipment used.