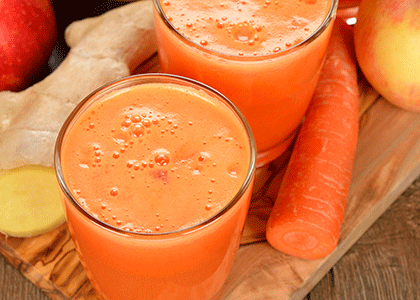 Orange juice for breakfast doesn't have to come from a store-bought carton, and it doesn't have to contain oranges! Get this recipe for a new twist on your favorite morning drink.
---
How you start your morning can set the stage for your entire day. Do it the right way and find out how drinking a juice can be a serious game changer.
---
Love sweet potato and chocolate? You're in luck. You now get to enjoy both in this simple but deliciously fudgy dessert.
---
You might think you're eating to ease your hunger pains, but if you're eating the wrong foods you might be making yourself hungrier. Here are foods that may spike a hunger-surge.
---
Looking to take your workout to a whole new level? This juice can make it happen.
---
Craving a hearty but healthy breakfast this weekend? This vegetable frittata has sweet potatoes and mushrooms to fill you up, plus spinach for a dose of greens. Eat up!
---
It's no secret that men and women approach weight loss differently. Find out what really works for men.
---
On Tuesday, June 14 at 9PM EST, join Reboot Nutritionist Abigail Hueber and host Christine Frietchen, for a FREE webinar all about juicing for weight loss. You don't want to miss it!
---
If you love the tropical combination of pineapple and coconut, then you're going to feel like you're in heaven when you try this vegan pineapple whip.
---
You've heard the buzz about why local foods are healthiest, like boasting more nutrients. But did you know about these six surprising facts?
---
Looking for a way to add some fun to your juicing routine? Make these juicy ice pops!
---
Planning on throwing a few cold ones back this weekend? Recover quickly by consuming juice recipes with these ingredients.
---