Do you understand the glycemic index of your foods and how certain juices can raise or lower your blood sugar levels?
---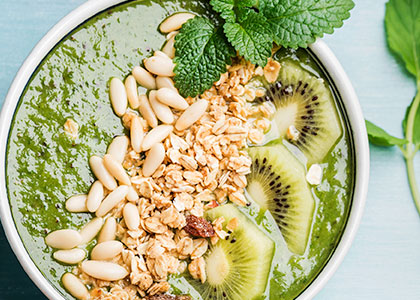 Many smoothie bowls are high in sugar, but this one offers a blast of plant protein with tropical flavors. Yum!
---
Pickle juice is trending, so find out the pros and cons of this sour drink and if you can add it to Reboot.
---
Hemp seeds make a creamy delicious drink that goes great in smoothies and is an easy alternative to dairy milk.
---
The average American generates about 4.5 pounds of trash each day. Here's how you keep healthy habits and reduce waste.
---
This green lemonade stays sweet with the addition of kiwi fruit, which is an excellent source of vitamin C, while the cucumber and spinach offer you a healthy dose of potassium and minerals.
---
Try these colorful wraps that are made of veggies and full of veggies.
---
Learn more about how histamine is produced in the body and how it can impact your health.
---
We all know bunnies love a garden full of leafy greens, but here's a green juice that you will love too.
---
Many people suffer with moderate to high blood pressure and this juice is one natural way to help reduce your numbers.
---
These Vietnamese-inspired rolls are filled with veggies and served with a peanut dipping sauce.
---
Learning how to make your own cleaning products is a great way to to maintain a healthy and clean home.
---