This juice offers combined nutritional benefits to reduce the incidence of allergies, infections and other seasonal inflammatory reactions.
---
Even cookies can be green, thanks to matcha green tea powder. And they still taste like a cookie without flour, butter or white sugar.
---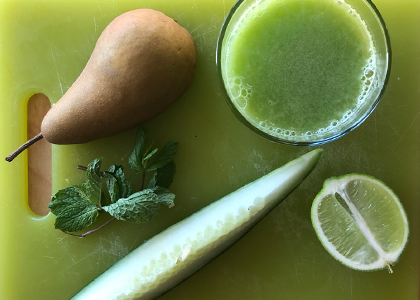 A green juice that tastes like a mojito mocktail, yes please!
---
Here is what to do when cravings threaten the success of your Reboot.
---
Struggling to drink a smoothie on a cold morning? Try warming it up!
---
A morning routine can set you up for a whole day of health. Here's a few practices you can try.
---
Migraines can disrupt work and life for those who deal with them. Here are a few ways to prevent and manage them naturally.
---
You might be surprised by this mild-flavored green juice with just a hint of licorice flavor.
---
Show some love for your body by making these Granola Hearts. They'll keep you fueled, filled and happy.
---
Try these tips for warming up your juices during a cold snap.
---
Make your game-day snacks more nutritious with these tips for adding more vegetables to classic recipes.
---
This classic juice combo brings together apples, beets, carrots and ginger and is great to drink after a workout.
---