Roasted root vegetables and apples are perfect on a bed of spinach and arugula in this perfect late-summer salad.
---
One thing I've learned from Rebooters: There is a Yin and Yang of men and women when it comes to implementing big changes in your life.
---
Hone your salad-making skills with this easy template for a perfectly balanced, simple salad.
---
Whether for religious or medical reasons, you can ease stress on your health by planning your pre- and post-fast.
---
You've completed your juice fast. Hurray! But how do you maintain your healthy lifestyle? Reboot nutritionist Claire Georgiou shares her tips for lasting success.
---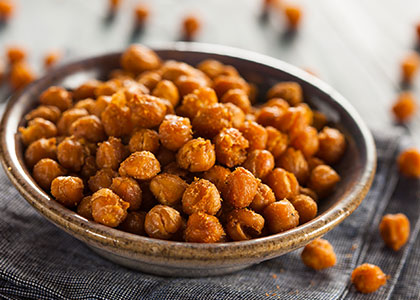 Need a perfect on-the-go snack? Make a batch of these spicy roasted chickpeas.
---
This creamy green smoothie is packed with superstar ingredients.
---
Try these easy juice add-ins for common everyday complaints, like upset stomach, congestion and constipation.
---
Try this hearty all-veggie chili recipe. You won't miss the meat or beans!
---
The picky eater's club… it's not just for kids. Here's how to work on your (or your loved ones') food phobias.
---
One chemical process has a profound effect on our weight: insulin and insulin sensitivity.
---
We compare blending/straining to juicing in this head-to-head contest with some surprising results.
---