---
Here's a spin on this traditional appetizer. Skip the white bread and cheese without sacrificing the flavor!
---
---
You won't miss the meat on these delicious vegetable skewers that grill up in just a few minutes! Perfect for your next barbecue.
---
---
---
Rich in anti-oxidants and flavor this drink is a delicious treat for all your summer BBQs.
---
No matter what type of party you're planning, you can't go wrong with these chipotle garlic kale chips. They're crunchy with a little spice and so much flavor -- a sure to be crowd pleaser.
---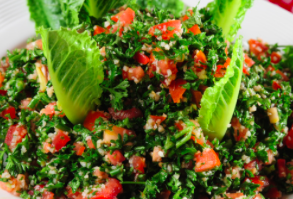 Transform this tasty Middle Eastern salad into a refreshing juice.
---
Kick off summer with this refreshing juice - sweet in taste and packed with hydrating fluids and phytonutrients.
---
---
Use your juice pulp to make delicious veggie balls they are perfect with pasta.
---