10 Unique Recipes for Your Holiday Meal
By Isabel Smith, MS, RD, CDN
Today is the first day of Passover! It's celebrated with a traditional meal, called the Seder, and like many other big holidays, this meal has tons of delicious and rich options for you to add to your plate. If we aren't cognizant of what's going on our plates, it can be a time that we fall off the healthy-eating wagon, but it doesn't have to be. Use our list of healthy dishes to bring to your upcoming Passover meal. And if you're celebrating Easter, you can consider these too!
PRE-DINNER
Get a Healthy Dose of Antioxidants
Purple Passover Juice
Make juice a part of your meal by starting with this Purple Passover juice that will have you energized for a delightful meal. There will likely be plenty of red wine on the table, so if you're abstaining from alcohol, go red with this instead.
 APPETIZER
Warm Up with Delicious & Hearty Vegan Soups
Sweet Beet & Celeriac Soup
Sweet beets and celeriac makes the perfect combo in this creamy soup.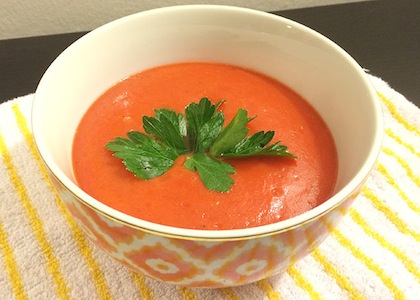 Roasted Tomato & Garlic Soup
Go for a classic soup with a healthy spin on it.
DINNER
Go Flourless & Gluten-Free
Zoodles
Use zucchini noodles instead of pasta!
Spaghetti Squash with Avocado Cream & Roasted Red Pepper Sauce
Use spaghetti squash instead of actual spaghetti.
SIDES
Load Up on Veggies
Garlic Mashed Sweet Potatoes
It doesn't get much better than this simple dish of mashed sweet potatoes.
Broccolini and Asparagus with Almonds
Add some crunch to your meal with green veggies and slivered almonds.
Brussels Sprout Chips
Or go crunchy with a healthy chip!
Desserts
Go Raw with These Awesome, Vegan, Gluten-Free Desserts
Raw Macaroons
Enjoy a little something sweet with only a few ingredients for a post-dinner treat.
Raw Carrot Cake
Just because this is one of the most delicious raw cakes out there, you should serve this too!
*Note: Check to make sure ingredients are kosher that you're using or check with your Rabbi.