5 Zucchini-Noodle Recipes to Make ASAP
If there's one thing in my kitchen that has stolen my heart lately, it's my spiralizer. If you're on a diet, have weight loss goals or just love getting the most nutrients out of your meals and you have placed pasta on the "no list", the spiralizer just might be your saving grace. By making your noodles with veggies, you can bring some of your favorite dishes back. "Zoodles," as they are commonly known, are on my weekly menu at least once every week and I'm always changing up the sauce and toppings. I can't get enough of them, and I've even started to experiment with sweet potato noodles too (hello, heaven). If you're ready to start adding more Zoodles to your life, try any or all of the our favorite zucchini noodle recipes.
1. Low-Carb Spinach Pesto Pasta
Think beyond your typical pasta salad and explore this gluten-free, vegan and nutrient-dense dish.
2. Meatless Monday Zucchini Noodles (Any Way You Like)
Just when you  think you can't get much better than spaghetti squash, Zucchini Noodles come and blow you away.

3. Creamy Sun-dried Tomato Zucchini Fettuccine
Who said pasta can't be healthy? With zucchini noodles and this vegan cream sauce it can!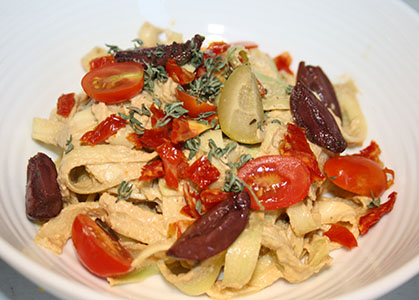 4. Zesty Lemon Zoodles
Light, fresh and tasty — this simple dinner is anything but boring.
5. Vegan, Noodle-Free Alfredo Zucchini Pasta
You'll love this vegan alfredo sauce! It has the rich creamy cheesy texture of a typical alfredo with the nice delicate taste but half the calories and rich in plant-based nutrients.