Everything is Bigger in Texas (& Kansas City!)
We hit a milestone this week because we are halfway through (36 total stops!) my US book tour. I can't believe how fast it's going! My visits in Kansas City, Dallas and Houston were the perfect places to visit because just when you think you're losing a little steam, I met hundreds of people who made it feel like it was my first stop! There was never a dull moment this week and I can't get over the size of the crowds.

My week started on Sunday, and what a way to start it in Kansas City! We kicked it off by juicing with Rob Collins and Kerri Ferrell on Fox 4 Morning Show! Thanks for having me. I had a blast!

Okay, here I go again about everyone being such an inspiration but I just can't help it. This is one I haven't seen before! This wonderful lady created her own recipe book filled with Reboot-friendly recipes for her community. That's one way to spark change — just get out there and do it yourself.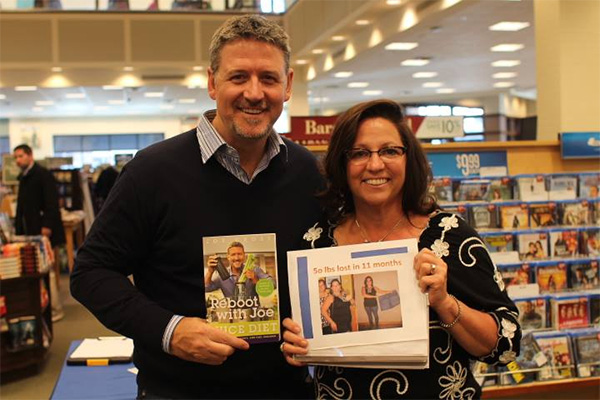 Check out this crowd…couldn't believe it!




Really love hearing the inspiring Reboot stories of many, and how they are spreading the word to their community. It's nice to do something for everyone who is making a change to their health so Breville sponsored a juicer giveaway and Michelle was the lucky winner!




I also met this young juicer is a super into sports and he's decided he wants to make juicing a part of his diet to improve his performance. Good on ya mate!





Then we were off to Texas. Now I know why they say "Everything is bigger in Texas" because WOW, what a turnout at these events!

My time in Texas started in Dallas and began with Good Morning Texas. It was super fun juicing with host, Mike Castellucci!

Then I got in a little history and had a quiet moment as I stepped on the X where President Kennedy was shot. It was pretty surreal.

The mood picked right up when I had my first book tour event in Texas! What a crowd!




And you have to meet Steven James!!! So great to hear Stevens story last night. He has accomplished 2 Reboots; a 60 day & 15 day, lost 92 lbs and is currently keeping the weight off, feeling amazing, looks great, and his wife is very happy too! Juice on mate!




This becoming a token picture at all my events! Gotta love the baby juicers. Thanks for coming out with your little one, Maru.




Let's get another shot of the crowd…so much energy from this group.




How great is this shirt? I might need to find one for myself!




Houston kept up the energy in Texas with an even larger crowd!


I was thrilled to personally meet a member of our Reboot community who I always see helping people with questions, talking about Rebooting and standing as an amazing source of support to so many. He is a huge voice in one of our discussion groups in our community called the Reboot Club, and has made such a positive impact on those who have a lot of weight to lose. Thanks so much for coming out Reynolds. It was a pleasure meeting you.




I love this shirt too! She made it specifically for this event.




I really enjoy taking pictures with so many guests! It gives me a chance to talk to them and hear their story. Thanks again to everyone for making the BIG effort to come out and support my book and the tour!




Don't forget to catch me on Access Hollywood tomorrow at 2PM EST. I'll be juicing and talking to Billy Bush and Kit Hoover about my Reboot journey and beyond!

This weekend I will be in Phoenix, AZ and back in Texas to meet everyone in Austin! Check out my full schedule.

Juice on!