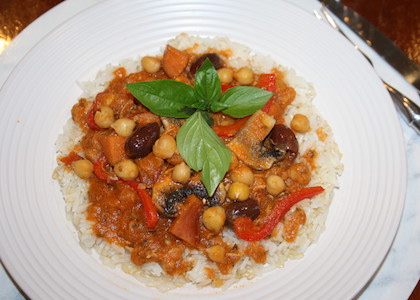 This is a great warming, easy and filling meal, particularly during the cooler months. Serve it alongside cauliflower rice, regular brown rice or basmati rice, and feel free to add extra vegetables.
Chickpeas are a delicious, easy and versatile legume to consume, so I try to always have them on hand. They're high in protein, fibre, folate, Vitamin B6, B1, magnesium, iron, calcium and manganese. I often cook batches up and store them in the freezer to easily throw into meals at any time.
Ingredients:
1 Tbsp of olive oil

1 large brown onion, chopped

4 garlic cloves, crushed

1 large handful of parsley, finely chopped plus extra for garnish

1 large handful of basil, finely chopped

1 large sweet potato, peeled and chopped into bite size pieces

14 oz can of crushed tomatoes

1 Tbsp of tomato paste

1 cup (200 mls) of vegetable stock
1 Tbsp of apple cider vinegar

1/2 cup (100 g) button mushrooms, sliced thickly

3 cups of chickpeas (500g), canned & drained or cooked freshly

1 large red pepper (capsicum), sliced

½ cup of black olives
Directions:
Heat a large frying pan over low-medium heat. Add oil and sauté the onions and garlic until the onion is translucent.
Add the chopped herbs and fry for another minute.
Add the sweet potato, crushed tomatoes, tomato paste, vegetable stock, apple cider vinegar and mushrooms and simmer stirring regularly for 10mins.
Add the remaining ingredients and simmer and stir for a further 10 minutes.
Serve with cauliflower rice, brown or basmati rice and garnish with parsley.
Substitutions:
Chickpeas – cannelloni beans, lentils
Sweet potato – carrots, pumpkin, butternut squash
Crushed tomatoes – fresh, diced or passata
Black olives – capers, green olives
Prep time: 20 minutes
Cook time: 25 minutes
Total time: 45 minutes
Servings: 4
Yields and nutritional information are estimated and will vary depending on produce size and equipment used.