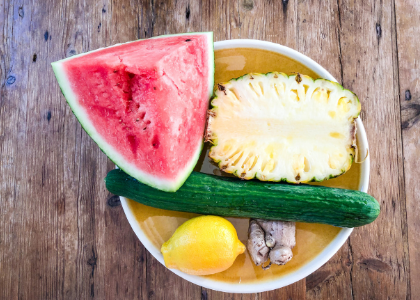 I love this juice before, during or after a workout to help hydrate and fuel me up. You can drink it along with a sweaty session to rehydrate and boost your electrolytes. It contains an awesome amount of phytonutrients from the watermelon and pineapple. Because this one is a little higher in natural sugars, I recommend it with movement so you can easily balance it all out.
Ingredients:
1/2 pineapple

1/4 watermelon

1 cucumber

1 lemon

1 inch (2.5 cm) piece of fresh ginger
Directions:
Peel pineapple and lemon.
Wash all produce well.
Add all ingredients through juicer and enjoy!
Substitutions:
Pineapple – Orange, grapefruit, mango
Watermelon – Red grapefruit, cantaloupe, honeydew, tomato
Cucumber – Celery, zucchini, jicama
Lemon – Lime, grapefruit
Prep time: 5 minutes
Total time: 5 minutes
Servings: 2
Yields and nutritional information are estimated and will vary depending on produce size and equipment used.