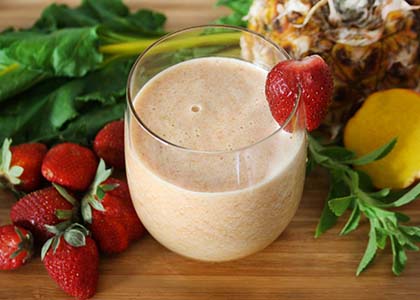 This is a nutrient and fiber-packed smoothie with all the goodness of the strawberries, pineapples, golden beets and beet leaves. I used stevia leaves that I have been growing in my yard to give this smoothie a sweeter taste without extra calories and the beet leaves provide extra minerals and chlorophyll.
Ingredients:
1 cup (250 ml) coconut water

1 slice of pineapple

½ cup strawberries

1/3 golden beet

2 beet leaves

3 small leaves of stevia

1 large handful of ice
Directions:
Wash all produce well.
Remove outer rind from pineapple.
Add all ingredients to blender and blend on high for 45 – 60 seconds until smooth.
Substitutions:
Pineapple – pear, apple, kiwi
Strawberries – blueberries, raspberries
Golden Beets – ½ carrot, red beet
Beet leaves – spinach, lettuce, kale
Stevia – pinch of 100% stevia, 1 tsp. of honey
Coconut water – almond milk, coconut milk, hazelnut milk, rice milk, hemp milk
Nutrition per serving:
Calories

180

Fat

1g

Saturated Fat

0g

Cholesterol

0mg

Sodium

290mg

Carbohydrates

43g

Fiber

8g

Sugars

30g

Protein

4g
Yields and nutritional information are estimated and will vary depending on produce size and equipment used.