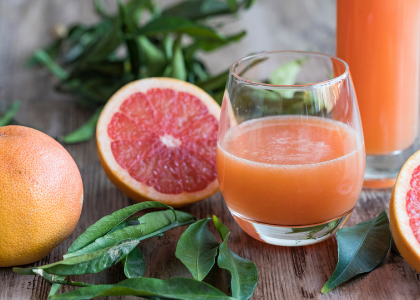 This is not your average grapefruit juice, but it is a great alternative to "orange" juice in the morning. The base of this delicious drink is grapefruit, a citrus is high in vitamin C, which can help boost your immune system. Grapefruit also contains soluble fiber, which can help lower cholesterol. The beets, red apple and cucumber add a bit of sweetness to the juice, while the ginger gives it a nice kick of spice.
Ingredients:
1 ruby red grapefruit

2 golden beets

1 red apple

1 cucumber

1 inch (2.5 cm) piece of fresh ginger
Directions:
Peel grapefruit.
Wash all produce well.
Add all ingredients through juicer and enjoy!
Substitutions:
Grapefruit – Orange, lemon, lime
Golden beet – Red beet, red cabbage
Apple – Pear, grapes (any type), cherries, blueberries
Cucumber – Celery, zucchini, jicama
Prep time: 5 minutes
Total time: 5 minutes
Servings: 1
Yields and nutritional information are estimated and will vary depending on produce size and equipment used.