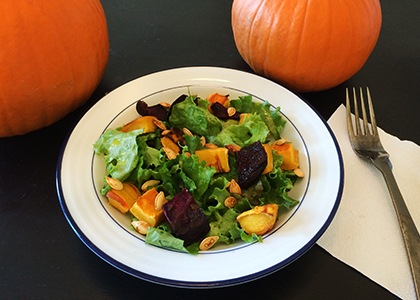 Pumpkin is for more than just carving and decorating your home in fall.  As one of this season's top health foods, pumpkin is rich in antioxidants like carotenes which are credited with supporting our immune system, promoting gorgeous skin, maintaining healthy vision and even promoting cancer prevention.  That vibrant orange hue lets you know just how good pumpkin is for us.  And roasting pumpkin is easy and saves well for leftovers.  Toss it into your favorite salad or main dish for a healthy dose of fiber and vitamins.
Ingredients:
Salad:
1 sugar/cooking pumpkin,  including seeds

1 large beet (beetroot)

2 cups (100 g) greens (I used green and red leaf lettuce)

1 tbsp olive oil

1 tsp red pepper flakes

sea salt and black pepper, to taste
Dressing:
1 garlic clove

1/2 lime, juice only

1/2 tbsp maple syrup

1/2 cup (125 ml) olive oil

1 tsp dijon or spicy mustard

sea salt and pepper, to taste
Directions:
Salad:
Preheat oven to 400 F (200 C).
Line 2 baking sheets with parchment paper.
Wash pumpkin, then cut stem off pumpkin by making a circle and pulling it off of the pumpkin.
Remove seeds and place in colander to rinse and remove strings. Set aside to let dry.
Cut pumpkin into sections, scrape away remaining strings and peel off outer skin. Then chop into chunks.
Wash beet, peel and cut off ends. Then slice into chunks.
Place garlic (whole and unpeeled), beet slices, pumpkin chunks and seeds onto parchment paper.
Drizzle olive oil then sprinkle red pepper flakes, salt and pepper.
Bake for 20-40 minutes until pumpkin and beets are tender. Watch seeds and bake for less time, until golden brown.
Let seeds, pumpkin and beets cool.
Meanwhile, wash lettuce well and chop. Then add to bowl.
Add cooled root veggies to bowl and mix with dressing.
Portion into large bowl or plate, garnish with roasted pumpkin seeds. Enjoy!
Save extra roasted pumpkin and seeds for a snack or add to your favorite dish.
Dressing:
Add olive oil, juice from lime, maple syrup, mustard, salt and pepper to blender or food processor.
Peel and chop shallot then place into blender.
Squeeze roasted garlic out of peel and add to blender.
Blend well adding more seasoning as needed to taste.
Store extra dressing for about 7-10 days in the fridge in an air-tight container.
Substitutions:
Beet – radish, tomato
Lettuce – use any mix of greens including romaine, spinach, kale, etc.
Pumpkin – butternut or other winter squash
Garlic – ginger
Lime – lemon
Maple syrup – honey
Prep time: 15 minutes
Cook time: 45 minutes
Total time: 1 hour
Servings: 2
Nutrition per serving:
Calories

190

Fat

14g

Saturated Fat

2g

Cholesterol

0mg

Sodium

690mg

Carbohydrates

18g

Fiber

3g

Sugars

9g

Protein

2g
Yields and nutritional information are estimated and will vary depending on produce size and equipment used.