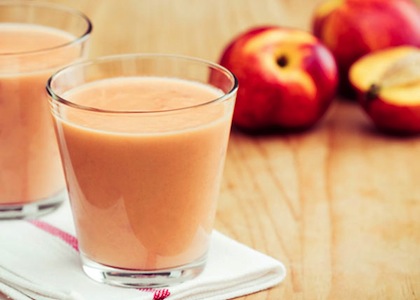 When you think of some of the best food combinations a few that come to mind are peanut butter and jelly, butter and toast, chocolate and sea salt, and yes, peaches and cream. This smoothie combines fresh peaches and banana for a sweet flavor with creamy coconut milk and chia seeds to get a smooth finish that satisfies the palate with Peaches & Cream. Peaches are an excellent source of vitamin A, potassium, boron, niacin, and high in antioxidants and cancer fighting properties.
Enjoy!
Ingredients:
1 large peach (fresh or frozen)

1 banana

2 tsp chia seeds

1 cup (250 ml) coconut milk

1 handful of ice

1 date (optional)
Directions:
1. Wash all ingredients then chop the peach and take out the seed.
2.  Add all the remaining ingredients into the blender.
3. Blend & Enjoy!
Substitutions:
Peach – apricots, nectarine
Banana – pear
Coconut milk – coconut water, almond milk, rice milk, hemp milk
Date – 1tsp, of rice malt, maple syrup or honey
Prep time: 10 minutes
Total time: 10 minutes
Servings: 1
Yields and nutritional information are estimated and will vary depending on produce size and equipment used.