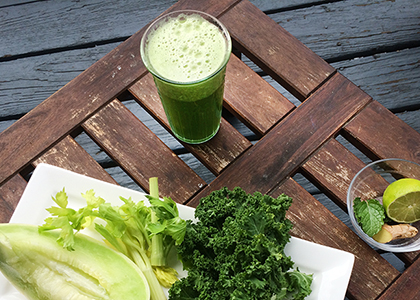 I love green juice, of course that's no surprise!  I also love creating juices and meals using ingredient straight out of our garden.  With this insanely snowy, cold winter, our garden is a bit behind, but this week herbs, greens and lettuces are finally growing strong!   When the weather is nice and sunny we enjoy good company sitting outside and eating or sipping juice together. Mint tastes so refreshing in juice and adds numerous wellness promoting benefits like anti-inflammatory, omega-3 fatty acids and even some cancer preventive nutrients like folate, Vitamins A and C, electrolytes potassium, calcium, metabolism supportive manganese and more!  Mint is easy to grow at home, whether you have a lovely yard or a small apartment window.  Here are some step-by-step tips for starting a garden. With the Kentucky Derby tomorrow, what a perfect time to enjoy a minty juice!
Ingredients:
¼ honeydew melon

2 celery stalks

4 kale (Tuscan cabbage) leaves

1 inch (2.5 cm) piece of ginger

1 lime

3 stalks mint
Directions:
Wash all produce well.
Cut honeydew flesh away from rind & remove seeds.
Peel lime (as desired).
Wrap mint around celery to get more juice yield.
Juice all ingredients through juicer and enjoy!
Yields and nutritional information are estimated and will vary depending on produce size and equipment used.