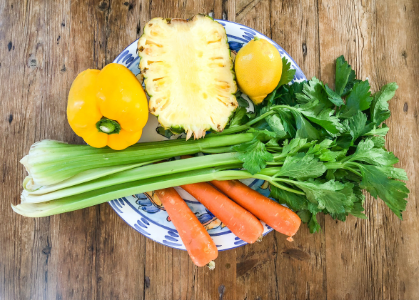 Just like a sunset over the Pacific Ocean, this juice will wow you with its bright colors. This drink is full of vitamin C and many other important micronutrients. Orange and yellow fruits and veggies help our bodies in many ways including promoting healthy eyes, joints and bones.
I love the healthy lifestyle in L.A. and I hope you'll love this juice.
Ingredients:
1/2 pineapple

3 carrots

3 celery stalks

1 yellow bell pepper

1 lemon
Directions:
Peel pineapple and lemon.
Wash all produce well.
Add all ingredients through juicer and enjoy!
Substitutions:
Pineapple – Orange, grapefruit, mango
Carrots – Sweet potato, parsnip
Celery – Cucumber, zucchini, jicama
Yellow Bell Pepper – Green or red pepper
Lemon – Lime, grapefruit
Prep time: 5 minutes
Servings: 2
Yields and nutritional information are estimated and will vary depending on produce size and equipment used.