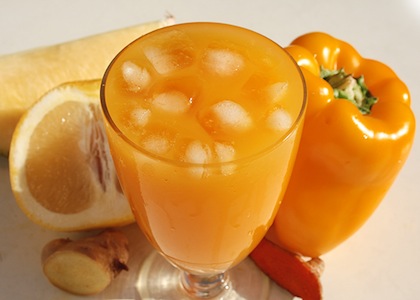 If anyone is experiencing joint, tendon or arthritic pain, then this juice would be an excellent addition to your daily diet as it's super anti-inflammatory. The turmeric and ginger offer large therapeutic benefits for joint health, liver health, digestive health because they are high in anti-inflammatory properties. If you make this juice you'll also be consuming a large array of carotenoids such as alpha-carotene, beta-carotene, lycopene, lutein, cryptoxanthin and zeaxanthin.  Enjoy!
Ingredients:
1/4 large pineapple

1/2 yellow bell pepper (capsicum)

2 celery stalks

1/2 yellow grapefruit

1 in. (2.5 cm) piece of ginger

1 in. (2.5 cm) piece of fresh turmeric 
Directions:
1. Wash all ingredients.
2. Peel grapefruit.
3. Remove core from pineapple (optional).
4. Add all produce through juicer and enjoy!
Substitutions:
Pineapple – apple, pear
Yellow bell pepper – green or red pepper, celery
Celery – cucumber, zucchini (courgette)
Grapefruit – lemon, lime
Ginger – mint
Prep time: 10 minutes
Total time: 10 minutes
Servings: 1
Yields and nutritional information are estimated and will vary depending on produce size and equipment used.