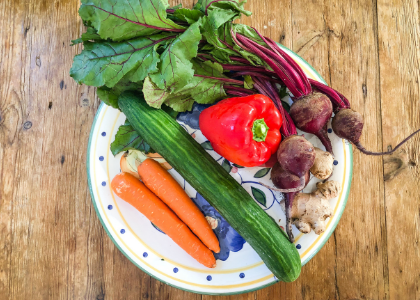 No tomatoes are needed for this bright red juice with a savory flavor that is sure to fill you up. Yes, you can juice beet stems (and greens), adding a little extra iron to this drink. You can easily sub this juice on a Sunday morning for the alcoholic version and enjoy a burst of energy.
Ingredients:
4 small beets (with stems)

1 red bell pepper

1 large cucumber

2 carrots

1 inch (2.5 cm) piece of fresh ginger
Directions:
Wash all produce well.
Add all ingredients through juicer and enjoy!
Substitutions:
Beet – Red cabbage, tomato, radish
Red Bell Pepper – Green or yellow pepper
Cucumber – Celery, zucchini, jicama
Carrots – Sweet potato, parsnip
Prep time: 5 minutes
Servings: 2
Yields and nutritional information are estimated and will vary depending on produce size and equipment used.