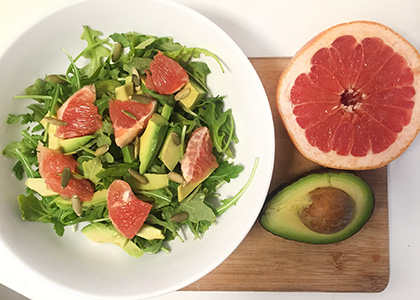 I love a tasty and refreshing summer salad. This salad is both satisfying and also loaded with hydrating and energizing summer produce like avocados and grapefruit. Avocado is a source of healthy, anti-inflammatory fat that can also help to promote balanced blood sugar, while the grapefruit is hydrating, packed with immune-boosting vitamin C (great for warding off those summer colds), and is also a cooling food, making it great for these hot summer days.
Ingredients:
Salad
1-2 handfuls arugula

½ avocado, sliced

1 grapefruit, peeled and sliced

1 tbsp pumpkin seeds
Dressing
1 tbsp extra virgin olive oil

1 tbsp lemon juice

sea salt and pepper, to taste
Directions:
Wash all produce well.
Arrange salad ingredients in a salad dish or plate (as pictured).
In a small bowl mix together salad dressing ingredients and drizzle the dressing over the salad.
Serve and enjoy!
Prep time: 10 minutes
Cook time: 0 minutes
Total time: 10 minutes
Servings: 2
Nutrition per serving:
Calories

240

Fat

17g

Saturated Fat

2.5g

Cholesterol

0mg

Sodium

150mg

Carbohydrates

21g

Fiber

6g

Sugars

12g

Protein

4g
Yields and nutritional information are estimated and will vary depending on produce size and equipment used.