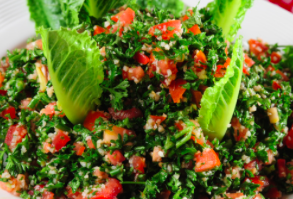 Transform this tasty Middle Eastern salad into a refreshing juice. Parsley is the main ingredient and a rich source of Iron, Calcium, Vitamin C plus many other anti-oxidants. Just one 16 ounce (500mL) glass of juice will provide you with 40% of your daily calcium needs and 90% of your iron requirements! Not to mention 319 mg of Vitamin C.
Bon Appetit!
Ingredients:
1 big bunch parsley (approx. 4 cups)

1 tomato

1/4 red onion

1/2-1 lemon (peeled)

1/2 cucumber

1 tsp olive oil (or to your taste)

Dash sea salt and black pepper
Directions:
Wash all ingredients well.

Push parsley, tomato, red onion, lemon and cucumber through juicer.

Add olive oil, salt and pepper into juice, stir to mix.

Juice, pour over ice and enjoy!
Servings: 1
Yields and nutritional information are estimated and will vary depending on produce size and equipment used.